An online food ordering apps allow users to order food from restaurants through a mobile device.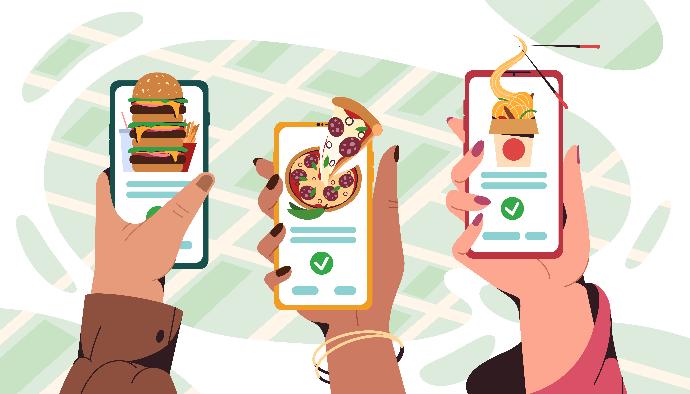 Online food ordering applications, or apps, are mobile phone applications that enable users to order food from local restaurants. These apps allow customers to browse menus, select items, add them to their carts, and pay with a credit card, PayPal, or other payment methods. Orders can also be tracked by customers.
Restaurants can benefit from an online food ordering app by attracting new customers, improving customer service, and increasing sales and revenue. When looking for an online food ordering solution, restaurant owners should consider factors such as app compatibility, security, payment options, costs, and delivery options. Users may face challenges such as privacy concerns, payment issues, safety concerns, and delivery time concerns when using an online food ordering app.
Features of an online Food ordering App 
Easy navigation: The app should be easy to use and navigate, with clear categories and a search function to help customers find what they're looking for.

Secure payment options: The app should offer a variety of secure payment options, such as credit card, debit card, or mobile money, to make it easy for customers to pay for their orders.

Real-time updates: The app should provide real-time updates on the status of the order, including when it is being prepared, when it is out for delivery, and when it has been delivered.

Delivery option: An option for pickup and delivery should be available. Some apps only offer an option for pick-up while others will give the option to deliver the food right to the customer's doorstep. Having the food delivered to your customers doorstep will save them time and money.  

Push notifications: The app should send push notifications to customers to remind them of their orders and to let them know when their food is on the way.

Reviews and ratings: The app should allow customers to leave reviews and ratings for the restaurants and food delivery services they have used, to help other customers make informed decisions.

Geolocation: The app should use the customer's location to show them nearby restaurants and delivery services that are available for order.

Personalization: The app should allow customers to save their favorite meals and delivery addresses for easy repeat orders.
As a restaurant owner, having a food ordering app can help you increase sales and improve the overall customer experience.
We've built an easy-to-use ordering system that makes it fast and easy to place orders. Please contact us to customize our app according to your specifications.